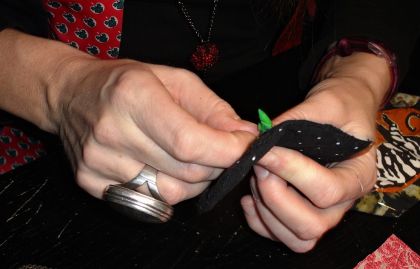 EN: In a very slow handcrafting process, I create some unique jewellery pieces. My singular creative and artistic handwriting is visible in every single piece.
I mainly use glass beads, that I embroider on textiles, although materials like shells, wood, stones or other small objects are as well to be found in my collections.
Each piece is unique and should not only decorate the wearer, but also underline his or her personality. For that reason, I am as well able to consider your individual wishes in my creations and on demand incorporate some very personal little objects.
IT: In un processo di lavorazione artigianale molto lento e preciso produco dei gioielli unici e inconfondibili. Ogni pezzo è marcato dal mio proprio stile e carattere artistico. La tecnica di base è il ricamo con perline di vetro, che spesso combino con materiali come conchiglie, legno, sassi o altri piccoli oggetti.
Ogni gioiello è unico e fatto per abbellire, ma anche sottolineare la personalità di chi lo porta. Per questo, nelle creazioni posso anche considerare i Vostri desideri individuali ed incorporare su domanda piccoli oggetti personali.
DE: Als Schmuckkünstlerin fertige ich in langsamer Handarbeit unverwechselbare Unikate an. Meine eigene gestalterische Handschrift findet sich in jedem Schmuckstück wieder. Die dabei verarbeiteten Materialien sind vorwiegend Glasperlen auf Textilien bestickt, es finden aber eingearbeitete Naturmaterialien wie Muscheln, Holz, Mineralien oder kleinteilige Objekte ebenso Verwendung in der Kollektion.
Jedes der Schmuckstücke soll ihre Trägerin oder ihren Träger nicht nur schmücken, sondern die Persönlichkeit unterstreichen und so kann ich natürlich auch auf individuelle Gestaltungswünsche eingehen und zum Beispiel kleine persönliche Objekte einarbeiten.